Tarot Card Readings are available in Person or by Phone.
Mrs. Lynn has the Answers, trusted Tarot Card reader for over 30 Years.
The Tarot cards will show you how to avoid pitfalls on your way to happiness. You will gain useful insight into your career, health, money, and relationships. Get an unrestricted look at what's going on behind-the-scenes.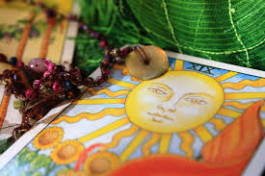 Find out if your lover is faithful.
Learn what is stopping your success.
Understand yourself and others.
Discover how to overcome life's obstacles.
The Cards can give you an important advantage in love and career, because they can show you the plans, motives, and hidden feelings of others. They reveal the obstacles and people that are creating negative energy and interference; they will direct you to new opportunities for success, love, and happiness. You'll receive closure for the Past, Advice for the Present, and Guidance for a better Future.
About Mrs. Lynn
Mrs. Lynn is a third generation intuitive guide with more than 30 years of experience. Her natural gift of "knowing" allows her to interpret the cards with astonishing accuracy. Combined with her natural psychic ability, Mrs. Lynn uses the Tarot Cards to help you make sense out of what has happened in the past, what is going on "now", and what awaits for tomorrow.
As an expert in her field, she is a frequent guest on TV and Radio. However, it is the one-on-one consultations that she considers the most important part of her work. She genuinely cares about the people who seek her guidance, and this is evident in her thoughtful and caring advice. More about Mrs. Lynn
The Combo ( Psychic and Tarot Card Reading ).
For even more detail and added perspective, combine the Cards with the Psychic Reading "Combo Reading" for when you absolutely, positively have to have all the facts, "right now" With the Combo Reading, you get the detailed nature of the psychic reading and the wide overview of the tarot cards. For the clear and precise information, you need.
The Combo gives insight into your thoughts and actions as well as the plans and feelings of others. This also reveals and any spirit energy that may be affecting your life. You will gain understanding of the subconscious motives behind your actions and decisions, so you can unravel any self-imposed limitations, mindsets, or spiritual block-ages that are limiting your success and happiness.
Combining the psychic energy with Tarot Cards gives you the full view of any situation, so you can have the advantage of an unencumbered look at events, people's motives, and hidden agendas that are affecting your life. This powerful tool can help you overcome difficulties and avoid obstacles, so you can create the life you've always wanted.
F.A.Q,s
Q. Is a tarot card reading, equally accurate over the phone?
A. consultations by phone or in person give the exact information with the same level of detail and clarity.
Q. How much is it?
A. All readings are priced at a flat rate, so even if the session does go over an hour there's no additional fee. Here is a list of all readings and rates.
Q. Are tarot cards evil?
A. No, they're just a tool. A knife can cut a piece of bread or wound someone. A hammer can build a home or be a weapon. The user and the intent, determine the nature of the tool.
Q. How often should I have my cards read?
A. Depends on what's going on. For instance – If you're actively seeking a job or trying to navigate a relationship, consultations can be weekly or even more often if necessary. However, under normal circumstances once every 6 months is sufficient to keep you up to date
Q. How long is a session?
A. The consultation can last up to an hour. It varies according to the person. Also, note that it is more difficult to read for someone who is skeptical. Longer is not necessarily better.
About your Tarot Card Reading.
What to expect.
1. Without asking any questions, Mrs. Lynn begins your session with a full- life spread. This first potion of the consultation will reveal information about various areas of your life, past, present and future. This part of your reading is before your questions because Mrs. Lynn wants to be certain that the information she is imparting is "Pure" not influenced by your questions.
2. The next phase of your consultation is the question stage. Many people don't even have any questions after the first part, but everyone is different so if there is still something that you need to know; now you can ask. Each question is answered in as much detail as is possible – no dry yes or no answers. As the session progresses, you will discover that no matter how multifaceted and intricate your questions are, Mrs. Lynn unravels the confusion, to get to the heart of what you need to know.
3. After the question portion is finished, she will ask if you need further clarity on the answers, you've received. This is important because sometimes the answers can produce more questions.
4. The final phase of the reading is a recap of what you've learned, key points that Mrs. Lynn may feel need your special attention, and suggestions for areas needing improvement.
Remember – the future is not "written in stone". It is fluid – changing with your actions, ideas, and decisions. Mrs. Lynn will tell you all that the tarot cards reveal, good and bad. If you don't like something, you have the ability to change things by changing your course of action. Like a map, if you don't like where you're headed, you can choose a different direction – but first, you need to know where you are. Rates
Are ready for the answers, Mrs. Lynn is waiting to hear from you.
Mrs. Lynn looks forward to guiding you to a better future.