About Us / Psychic Reader Mrs. Lynn
Mrs. Lynn is a third generation Psychic Reader, Clairvoyant, and Energy Worker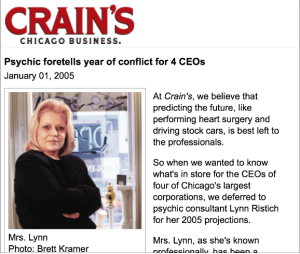 For more than 30 years, Mrs. Lynn has been helping people from around the world – with her psychic guidance. Internationally recognized for her work, she's appeared on Good Morning America and the TODAY Show. She's been featured nationally on Radio and in Magazines, and locally on CBS Chicago and Chicago Talk Radio as well as Chicago Crain's Magazine,
Her life's work as a psychic reader
was even the subject of a museum exhibit, Sponsored by "Chicago Talk Radio". Celebrities, High-Powered CEOs and Everyday People, seek her help and advice. She has a genuine concern and compassion for others and this is evident in her thoughtful and caring guidance. Due to her natural ability and her studies of psychic energy, she is often invited to speak on the topic of psychic energy and its practical application in the modern world.
"Psychic foretells future of 4 CEOs"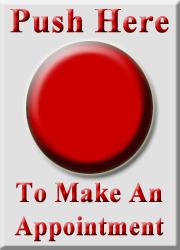 Even though she enjoys the success of her public speaking and writing, it is her consultations with those seeking her psychic advice, which remains the mainstay of her work. She believes that it's her spiritual responsibility, to stay available to people who need her. Gifted with "Spiritual Discernment",she can see and feel spirit energy around you, and reveal how this super-natural force can affect your life.
 FAQ's
Q. How long has Mrs. Lynn been doing this?
A. She is a natural born intuitive. Her gift was first recognized at the age of five, when family and friends noticed that she had knowledge beyond her age, and experience.
Q. What type of training did she receive?
A. Her psychic ability is from her mother and her grandmother who were powerful energy workers in their own right. She considers herself blessed to have had such powerful and gifted women as role models, who helped to cultivate her ability but also instilled in her a sense of responsibility for the gift she has and the people who seek her help.
Q. Does she do Witchcraft?
A. "Never" The core of her spiritual work is what scripture refers to as a "Word of Knowledge" she just knows things. Gifted with "Spiritual Discernment",she can see and feel spirit energy around you, and reveal how this super-natural force can affect your life. Her work never involves witchcraft, Voodoo, Wicca, Hoodoo, Santeria, or any form of black magic designed to manipulate the freewill another person.
Q. Does she ever give readings at events or parties?
A. Because of her busy schedule, she usually can't personally attend events to give readings. However, there are exceptions and even if she can't attend your event, she can recommend the right reader for your occasion.
Does she do home blessings?
She does conduct (in person) energy cleansings and blessings for home, business, and objects.
Q. What does she believe about ghost and hauntings?
A. She's had countless encounters with the spirits of the departed and can identify the cause of hauntings and para-normal activity.
Does she offer group readings?
Consultations in a group are available. However, keep in mind that deep personal information may surface during a reading that's why she recommends your reading be done privately.
A session with Mrs. Lynn can reveal valuable information with astonishing accuracy. Would you like to know your loved-one's thoughts, plans, and feelings? Do you want to reunite with an ex? Would you like find your soul mate? Is there a situation at work that has you confused or frustrated? Even If other psychics have been unable to help you or they've powerless to get to the root of a problem, Mrs. Lynn can help you get your life back on track.
Do you feel like you're stuck in a cycle of hurt and frustration? Does it seem you can break out of it? Have you searched and prayed for answers only to be repeatedly disappointed, then you are reading this by divine appointment. Mrs. Lynn excels where other psychics and spiritualist fail.  Mrs. Lynn regularly receives referrals of the most difficult cases from spiritualist and other psychics. She is proud to have earned the respect of her professional peers. In her work, she is committed to helping the people who turn to her. She blends psychic insight with advice for practical application so you not only learn what is going on but also get clear direction to the best possible outcome.
Psychic Readings can last from 20 minutes to an hour, depending on the reading you choose and your current circumstance. All consultations are charged at a flat rate so even if your reading should last over an hour, there is no extra charge.
Mrs. Lynn is a native Chicagoan. She grew up in Chicago, and through her work has touched the lives of people worldwide, Chicago has always remained her hometown.
You can visit her at her office in Chicago (a few blocks west of (Michigan Ave.) at 200 w. Ohio St. – where she's been located since 1994. You can also see her at her meditation center in Elmhurst, IL.
She offers a variety of readings and services, including psychic readings, tarot card readings, soulmate readings, energy clearing, and soulmate uniting.
Mrs. Lynn also offers a complimentary relationship analysis. Feel free to ask more about available readings and services
Mrs. Lynn is available at her location in Downtown Chicago (Free Parking) and in Elmhurst IL.
Tarot Card and Psychic Readings are also available by Phone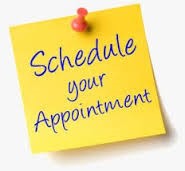 Need more Information? Feel free to Call or Text her at (312-787-2261)
or email her any time at 2askmrslynn@gmail.com.
She's looking forward to hearing from you!
Back to Home | What can a Psychic Reading reveal? | Can a Soulmate Reading help your relationship?
Summary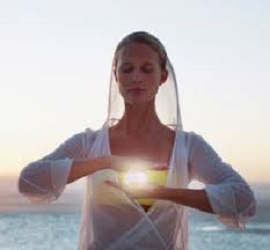 Author Rating





Brand Name
Psychic Readings by Mrs. Lynn
Product Name